Our Puppy and Kitten Kit
Bringing home a new puppy or kitten is a very exciting event for most people. But this adorable, soft and cuddly little creature is entirely dependent on its new family for food, water, shelter, training and healthcare. That is a lot of responsibility, particularly if this is the first pet. There is an abundance of information available for new pet owners but with so much information, and much of it conflicting, knowing where to turn can be overwhelming.
This is why we, at Mountainview Animal Hospital, have designed an information package for our new pet owners to take home. In it we have included everything we believe you need to know about your new furry friend. The information has been broken down into categories for quick access. Each category is further simplified into a question and answer format. If you have a question, we have tried to provided you with the answer.
For example, have you ever wondered:
Why you should have your pet spayed or neutered ?
What vaccinations does your new puppy need and when ?
Can people get worms from their new pet ?
Our puppy or kitten kit will answer these questions and more.
This information package is a gift we give to our new puppy and kitten owners with their first visit to our hospital.
We hope our efforts in supporting your new relationship with your pet will translate into many happy and healthy years together.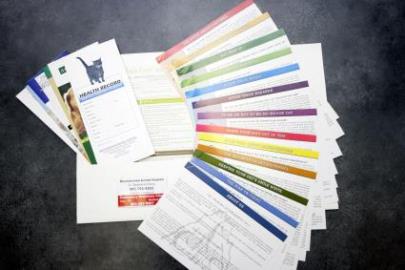 Below is a sample of the type of information you will find in our Puppy and Kitten Kits.
ABOUT

US
This is where we get to talk all about ourselves; our mission statement, what services we provide, what hours we are available, and where you should go for help when we are closed.
THE

POINT

ABOUT

VACCINES
This category explains the importance of vaccinations, how they work, when to vaccinate your new puppy or kitten and with which vaccines. The various diseases for which your pet might receive a vaccine are explained. It also discusses the importance of the physical examination and vaccination frequencies in older pets.
THE

FACTS

OF

LIFE

–

SPAY

OR

NEUTER
Here we review what spaying and neutering are, why this surgery should be done and at what age we recommend them. We dispel some of the many misconceptions about spaying and neutering. We also explain what to expect the day of your pet's surgery and how to prepare yourself and your pet.
EAT

THIS

UP
Eat this up is about your pet's diet. What you should and shouldn't feed your pet, how and when you should feed it, are supplements necessary, what special considerations should be given to large breed dogs, and what role diet plays in urinary tract diseases in cats, are just a few of the questions we answer here. We also provide you with a breed and age chart so you know when to switch your growing puppy or kitten to an adult diet.
THE

DIRT

ON

GROOMING
All pets will require some attention to their appearance from time to time. This section will teach you how often to brush your pet, how to do it and with which type of brushes. We also discuss bathing, ear cleaning and nail trimming.
SEND

THIS

POOCH

TO

SCHOOL
The importance of training your new puppy cannot be overstated. We have provided you with step by step instructions on crate training, housetraining and general training techniques.
SCOOP

THESE

RULES
Training a kitten to use the litter box is rarely as simple as putting gravel in a plastic box. In this section we outline the process of litter training a kitten and how to maintain the proper litter box hygiene to avoid house soiling problems in the future.
WAYS

TO

ENCOURAGE

YOUR

CAT

TO

DRINK

WATER
Urinary tract disease is a common affliction in cats and encouraging them to drink more water is often prescribed as part of the treatment and prevention process. However, getting a cat to drink more water is not as easy as it might sound. Here we provide you with some helpful tips to increase your likelihood of success.
AVOID

THESE

HAZARDS
Many of the medications, foods, plants and household items that we enjoy can be hazardous to our pets. We have provided you with a list of toxic plants and foods, and suggestions to puppy and kitten proof your house, garage and yard.
GETTING

TO

THE

HEART

OF

HEARTWORM
This section will provide you with information on heartworm disease, how dogs become infected, what the symptoms are of the disease and how this deadly parasitic infection can be prevented.
TO BE OR

NOT

TO BE AN

INDOOR

CAT
Many new kitten owners are conflicted about whether to keep their cat indoors. A review of the pros and cons of the indoor cat lifestyle will help you make an informed decision. Step by step instructions on how to harness train your cat is also available.
WORM

YOUR

WAY

OUT

OF

THIS
Most veterinarians will ask new puppy and kitten owners to bring a stool sample at their first visit; we are looking for intestinal parasites. We explain the what, when, where and how about intestinal parasites and their dangers to our pets and families.
SCAN

THIS

ABOUT

MICROCHIPPING
Sadly, thousands of pets are lost or stolen every year and more than 70 % of those never come home. We explain how a microchip works and why it is the best pet identification system available.
THE

SECURITY

OF

PET

INSURANCE
One in three pets will experience a new illness or injury requiring veterinary care this year; one in six will sustain two or more. Pet insurance gives pet owners peace of mind that if their pet needs emergency care they will be able to afford the cost of treatment.
KEEPING

YOUR

PET

'S

SMILE

WHITE
Periodontal disease is the most common disease seen by veterinarians, almost 80 percent of dogs and cats develop periodontal disease by 5 years of age. Brushing your pet's teeth is the best way to prevent disease of the teeth and gums. Here we explain how to do it and what alternative treatments are available to keep those teeth white if your pet is less than co-operative. We also list safe chew toys.
THE

WAR

ON

FLEAS

AND

TICKS
This section will teach you how to detect, treat and prevent flea infestations and tick bites.
LET

'S

TAKE

A

TRIP
Traveling with pets is becoming increasingly common, but not all pets enjoy the ride. This section talks about boarding facilities, how to prepare a pet for travel by car or by plane.
WHEN

IT IS AN

EMERGENCY
When your pets are sick, and your regular family veterinary hospital is closed, the Emergency Veterinary Clinic on HWY 10 is there to provide emergency medical and surgical support. Sometimes, getting a pet to the hospital can be the hardest part, we give you some tips on how to transport sick, scared or injured animals.
If all that information was not enough, we have also included fun facts and trivia. For instance, do you know how many fleas can be produced from 10 females in 30 days; or who first discovered vaccines and how long ago?