Lost and Found
Unfortunately, we often receive telephone calls from clients who have lost a pet or ones that have found a pet for whom the owner cannot be located. We do not have the room to house all of the lost animals; however we would like to help bring the lost and found together. Jump to the Lost and Found Pet listing.
You can call us and leave your information with our receptionist, post a picture and profile at the clinic or use the form below to post it on this web page. We would also be happy to scan any found animals for a microchip so that those who have a chip can be quickly returned to their homes.
Scan This About Microchipping
Sadly, thousands of pets are lost or stolen every year and more than 70% of those never come home. 33 % of pets will get lost at least once in their lifetime.
A tiny microchip may be the difference between lost and found.
Microchipping is the newest means of pet identification. A tiny computer chip with a programmed identification number is imbedded in a biologically inert material and individually sterilized and packaged. The device is the size of a grain of rice and is injected by a veterinarian into your pet, under the loose skin over shoulder blades. The procedure is simple and no more painful than a vaccination. The microchips do not cause any adverse tissue reaction and remain inert until a special scanner is passed over the chip to read the identification number. The chip identification numbers are filed with a national registry that is accessible 24 hours per day and 365 days a year. All humane societies, animal shelters and veterinary hospitals are equipped with scanners. Through this system lost pets can be quickly reunited with their families. Microchipping is the only way to provide a permanent, non-alterable or easily removable means of identification that cannot be lost or fade with time.
Don't let your pet's picture end up on our lost and found site, have him or her microchipped.
Lost and Found Pet Listings
LOST
"Troy" the cat went missing on July 10, 2017 from the Banting Road area in Georgetown. Troy is a 12 year old calico domestic short hair and was not wearing a collar. If you have seen Troy please call Brandon at
416-797-1353 or 416-859-0430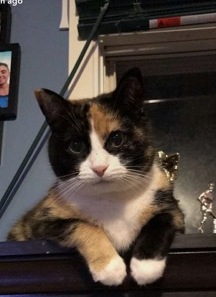 LOST
"Coco" the cat went missing on July 20, 2017 from 6th Line and 20th Sideroad in Limehouse. Coco is a 4 year old Siamese cat. She is soft tawny grey, with blue eyes and no teeth. She is not wearing a collar and is not microchipped. If you have seen Coco please call Janis at 416-258-0630.
LOST
"Negan" is a 1 1/2year old neutered male cat who went missing in the Roxborough Ave. area on Sept. 10, 2017. He has 3 white paws, and the 4th front paw is black and white. He is all black on back and tail with white on chest and belly, and a white streak across face from top left to bottom right. He is a petite for an adult cat and his fur is silky smooth.
If you have seen him please contact Gillian at 289-683-5654.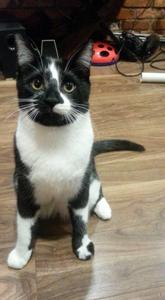 LOST
We're missing our girl cat. She is pretty small might answer to 'Pickles' about a year old. Long hair grey. Has orange on her head. My name is Jordan my phone number is: 416 333 5686

LOST
Missing 5 year old male cat in the Bower St. area in Acton. He's solid grey with golden eyes. If you have seen him please call Kathleen at 519-212-4111, or at 519-731-0297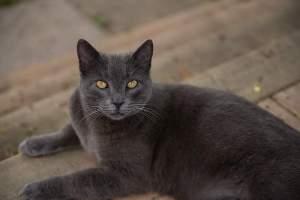 FUNFACT:
Cats lack a true collarbone. Because of this, cats can generally squeeze their bodies through any space they can get their heads through. You may have seen a cat testing the size of an opening by careful measurement with their head.